Exposure to air pollution is associated with numerous effects on human health, including pulmonary, cardiac, vascular, and neurological impairments. The health effects vary greatly from person to person. High-risk groups such as the elderly, infants, pregnant women, and sufferers from chronic heart and lung diseases are more susceptible to air pollution. Children are at greater risk because they are generally more active outdoors and their lungs are still developing. Exposure to air pollution can cause both acute (short-term) and chronic (long-term) health effects.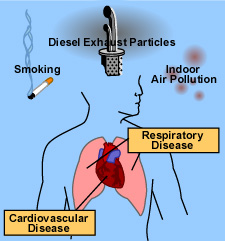 The health of our lungs and entire respiratory system is affected by the quality of the air we breathe. In addition to oxygen, this air contains other substances such as pollutants, which can be harmful. Exposure to chemicals by inhalation can negatively affect our lungs and other organs in the body. The respiratory system is particularly sensitive to air pollutants because much of it is made up of exposed membrane. Lungs are anatomically structured to bring large quantities of air (on average, 400 million litres in a lifetime) into intimate contact with the blood system, to facilitate the delivery of oxygen.
The inhalation of air pollutants eventually leads to their absorption into the bloodstream and transport to the heart. A wide spectrum of chemical and biological substances may interact directly with the cardiovascular system to cause structural changes, such as degenerative necrosis and inflammatory reactions. Some pollutants may also directly cause functional alterations that affect the rhythmicity and contractility of the heart. If severe enough, functional changes may lead to lethal arrhythmias without major evidence of structural damage to the myocardium.
Examples of short-term effects
include irritation to the eyes, nose and throat, and upper respiratory infections such as bronchitis and pneumonia. Other symptoms can include headaches, nausea, and allergic reactions. Short-term air pollution can aggravate the medical conditions of individuals with asthma and emphysema. In the great "Smog Disaster" in London in 1952, four thousand people died in a few days due to the high concentrations of pollution.
The lungs are the organs responsible for absorbing oxygen from the air and removing carbon dioxide from the blood-stream. Damage to the lungs from air pollution can inhibit this process and contribute to the occurrence of respiratory diseases such as bronchitis, emphysema, and cancer. This can also put an additional burden on the heart and circulatory system.
Long-term health effects
can include chronic respiratory disease, lung cancer, heart disease, and even damage to the brain, nerves, liver, or kidneys. Continual exposure to air pollution affects the lungs of growing children and may aggravate or complicate medical conditions in the elderly. It is estimated that half a million people die prematurely every year in the United States as a result of smoking cigarettes.
Although in humans pollutants can affect the skin, eyes and other body systems, they affect primarily the respiratory system. Air is breathed in through the nose, which acts as the primary filtering system of the body. The small hairs and the warm, humid conditions in the nose effectively remove the larger pollutant particles. The air then passes through the pharynx, esophagus, and larynx before reaching the top of the trachea. The trachea divides into two parts, the left and the right bronchi. Each bronchi subdivides into increasingly smaller compartments. The smallest compartments of the bronchi are called bronchioles, which contain millions of air sacs called alveoli. Together, the bronchioles and alveoli make up the lungs.

Both gaseous and particulate air pollutants can have negative effects on the lungs. Solid particles can settle on the walls of the trachea, bronchi, and bronchioles. Most of these particles are removed from the lungs through the cleansing (sweeping) action of "cilia", small hairlike outgrowths of cells, located on the walls of the lungs. This is what occurs when you cough or sneeze.
A cough or sneeze transports the particles to the mouth. The particles are removed subsequently from the body when they are swallowed or expelled. However, extremely small particles may reach the alveoli, where it takes weeks, months, or even years for the body to remove the particles. Gaseous air pollutants may also affect the function of the lungs by slowing the action of the cilia. Continuous breathing of polluted air can slow the normal cleansing action of the lungs and result in more particles reaching the lower portions of the lung.

Research into the health effects of air pollution is ongoing. Medical conditions arising from air pollution can be very expensive. Healthcare costs, lost productivity in the workplace, and human welfare impacts cost billions of dollars each year.

| | |
| --- | --- |
| | In addition to causing lung damage, air pollution is now also recognized as a threat to cardiovascular health. Reporting in the March 6, 2002 Journal of the American Medical Association (JAMA), researchers examined long-term health data on 500,000 individuals to compare increases in air pollution levels with incidence of death. They discovered that when air pollution levels suddenly increased, in addition to expected increases in deaths from asthma, pneumonia, and emphysema, there was an unexpected increase in the number of deaths related to heart attacks and stroke. Most surprising was the finding that when air pollution levels rose, so did deaths from all causes, not just those related to the heart and lungs (Fig. 1). |
One possible explanation for the increase in cardiovascular-related deaths is that air pollution causes oxidative stress that, in turn, triggers an inflammatory response in the lungs that leads to the release of chemicals that impair heart function and blood pressure.
Many chemical substances may cause the formation of reactive oxygen. This oxidative metabolism is considered to be critical to the preservation of cardiovascular function. For example, oxygen free radicals oxidize low-density lipoproteins, and this reaction is thought to be involved in the formation of the atherosclerotic plaques. Oxidized low-density lipoproteins can injure blood vessel cells and increase adherence and the migration of inflammatory cells to the injured area. The production of oxygen free radicals in heart tissues have been associated with arrhythmias, and heart cell death.
When scientists working in the Netherlands exposed rats to high levels of particulate air pollution, following exposure, the researchers found that plasma levels of fibrinogen were elevated by 20 percent, which could presumably increase blood viscosity, leading to decreased tissue blood flow. They also measured a 400 percent jump in tumor necrosis factor (TNF)-alpha, and a 350 percent increase in nitric oxide synthase (NOS) in lung fluids. The researchers speculated that as particulates lodge in lung tissues they induce an increase in the production of nitric oxide (NO). Under normal conditions nitric oxide is an important neurotransmitter that aids numerous signaling pathways involved in motor learning, protein modification, arterial dilation and immune defense. But when conditions trigger the overproduction of NO as seen in the Netherlands study, the result is serious damage to the endothelial cells lining the blood vessels of the lungs.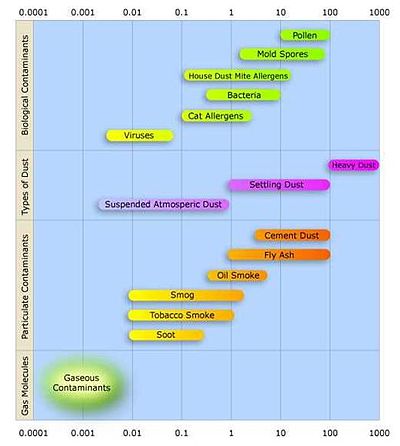 Another mechanism implicated in air pollution-related heart failures involves bone marrow and atherosclerotic plaques. Researchers in Vancouver, British Columbia found that exposure to high levels of air
pollution stimulates
bone marrow to release leukocytes and platelets that accumulate preferentially in pulmonary capillaries. In addition to causing damage to lung tissues, the researchers also observed that inhalation of particulate pollution causes changes in atherosclerotic plaque lesions that make the deposits more vulnerable to rupture.
Indoor environment, city living, cars, exposure to electronic devices, harmful EMF's (electromagnetic fields) and environmental pollution all result in increased positive ions in the body, Manipulating the ratio of ions towards the negative. is very wise.
When the air you breathe in is polluted, the oxygen that is sent throughout your body includes the toxins that polluted the air to begin with. When you breathe in polluted air, the toxins begin breaking down cellular structures in your lungs and throughout your respiratory system, resulting in chronic respiratory distress.
They postulated that exposure to particulate air pollution induces a systemic inflammatory response that includes the release of inflammatory mediators that stimulate bone marrow to release leukocytes and platelets, leading to lung inflammation and changes of atherosclerotic plaque, making them more vulnerable to rupture.
Table 1: Sources, Health and Welfare Effects for Criteria Pollutants.
Pollutant
Description
Sources
Health Effects
Welfare Effects
Carbon Monoxide (CO)
Colorless, odorless gas
Motor vehicle exhaust, indoor sources include kerosene or wood burning stoves.
Headaches, reduced mental alertness, heart attack, cardiovascular diseases, impaired fetal development, death.
Contribute to the formation of smog.
Sulfur Dioxide (SO2)
Colorless gas that dissolves in water vapor to form acid, and interact with other gases and particles in the air.
Coal-fired power plants, petroleum refineries, manufacture of sulfuric acid and smelting of ores containing sulfur.
Eye irritation, wheezing, chest tightness, shortness of breath, lung damage.
Contribute to the formation of acid rain, visibility impairment, plant and water damage, aesthetic damage.
Nitrogen Dioxide (NO2)
Reddish brown, highly reactive gas.
Motor vehicles, electric utilities, and other industrial, commercial, and residential sources that burn fuels.
Susceptibility to respiratory infections, irritation of the lung and respiratory symptoms (e.g., cough, chest pain, difficulty breathing).
Contribute to the formation of smog, acid rain, water quality deterioration, global warming, and visibility impairment.
Ozone (O3)
Gaseous pollutant when it is formed in the troposphere.
Vehicle exhaust and certain other fumes. Formed from other air pollutants in the presence of sunlight.
Eye and throat irritation, coughing, respiratory tract problems, asthma, lung damage.
Plant and ecosystem damage.
Lead (Pb)
Metallic element
Metal refineries, lead smelters, battery manufacturers, iron and steel producers.
Anemia, high blood pressure, brain and kidney damage, neurological disorders, cancer, lowered IQ.
Affects animals and plants, affects aquatic ecosystems.
Particulate Matter (PM)
Very small particles of soot, dust, or other matter, including tiny droplets of liquids.
Diesel engines, power plants, industries, windblown dust, wood stoves.
Eye irritation, asthma, bronchitis, lung damage, cancer, heavy metal poisoning, cardiovascular effects.
Visibility impairment, atmospheric deposition, aesthetic damage.
How Negative Ions Purify the Air ?
Most all particles in the air have a positive charge or are positively ionized, while negative ions have a negative charge. Negative ions are drawn to these positively charged particles by magnetic attraction to one another. When there is a high enough concentration of negative ions in the air, they will attract to floating particles in large numbers. This causes the particle to become too heavy to remain airborne. As a result, the particle will drop out of the air, keeping them out of the breathing zone and out of the respiratory system where it can trigger breathing and health problems.
And for a whopping one in three of us who are sensitive to their effects, negative ions can make us feel like we are walking on air. You are one of them if you feel instantly refreshed the moment you open a window and breathe in fresh, humid air.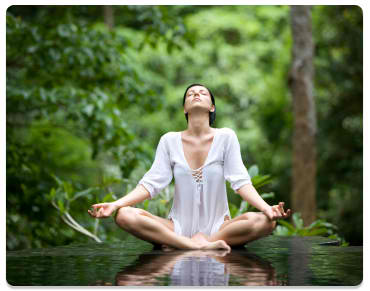 "You may be one of them if you feel sleepy when you are around an air-conditioner, but feel immediately refreshed and invigorated when you step outside or roll down the car window," Howard tells WebMD. "Air conditioning depletes the atmosphere of negative ions, but an ion generator re-releases the ions that air conditioners remove." Source
Then the pollutant particles can be collected by normal cleaning activities, such as dusting or vacuuming. If the particle are forced back up into the air it will again be ionized and quickly settled out of the breathing zone once again.
Nobel Prize in Physiology/Medicine 1991 was awarded to Dr. Neher & Sakmann for their discoveries concerning the function of single ions channels in cells
In Brief: they discovered that all cells open and close their cell wall 'doors' with ions. And if they are not present, then the doors to nutrients and the doors to waste removal are closed. If there are not enough ions to go around, then some (or many) cells suffer. Think garbage strike: no trucks picking up trash, it sits in the streets and rots/smells. Source
In nature, negative ions are generated by processes such as sunlight, lightening, waves from the ocean, and from waterfalls
.
"Concrete Jungles" minimize the natural production of negative ions by disrupting the delicate electrical balance between the atmosphere and the earth. Most ionizers recreates them with electrodes to electrically produce negative ions. This method produces a density that is many times higher than the negative ion level found at Niagara Falls, the highest natural producer of negative ions and one of the healthiest environments in the world.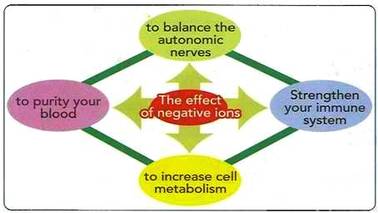 PURIFICATION OF THE BLOOD
Through research done by Dr. Tanaka in Japan, it was discovered that when negative Ionization is introduced, the Ions in calcium and natrium (salt) in the blood increases, and the blood is purified by increasing blood alkaline
NEGATIVE IONS AND SLEEP
Drs. M. Terman and J.S. Terman at Columbia University studied the effect of negative ions on seasonal affective disorder (SAD). They concluded that negative ions promote alpha brain waves and increase brain wave amplitude, which translates to a higher awareness level. Negative ion induced alpha brain waves were found to spread evenly across the right and left brain hemispheres. All of this creates an overall calming effect and will help us enter sleep rapidally sp and reach the REM (rapid eye movement) state more quickly.
REVIVING THE CELL
When the amount of negative Ions in the blood is increased, the function of a cell is activated. The electrical material exchange speeds up the cell function and as a result, nutrition is fully absorbed by the cell and waste material is eliminated. Metabolism is increased and the function of the cell is gradually revived.
NEGATIVE IONS AND DEPRESSION
Columbia University studies of people with winter and chronic depression show that negative ion generators relieve depression as much as antidepressants. "The best part is that there are relatively no side effects, but we still need to figure out appropriate doses and which people it works best on," he says.
INCREASING IMMUNITY
As the amount of negative Ions increase, the gamma globulin in the blood increases, resulting in blood rich in protein and antibodies.
4.
ENHANCING THE AUTONOMIC NERVOUS SYSTEM
Dr. Tanaka found that negative ions control the balance in the autonomic nervous system between the insulin and adrenal functions. This provides strong resistance to diseases
Vitamins of the Air?
Generally speaking, negative ions increase the flow of oxygen to the brain; resulting in higher alertness, decreased drowsiness, and more mental energy," says Pierce J. Howard, PhD, author of The Owners Manual for the Brain: Everyday Applications from Mind Brain Research and director of research at the Center for Applied Cognitive Sciences in Charlotte, N.C.
Negative Ion Air Purifiers...These devices work by generating a flow of negative ions that charge and bind together airborne particulate matter, which then clumps and precipitates out of the air. Ion generating devices have been shown to be effective against dust, cigarette smoke, pet dander, pollen, mold spores, viruses, and bacteria. In addition to eliminating harmful particulates from the air, negative ions also have a number of unique health benefits.
Re-Oxygenate yo

ur system
Re-Oxygenate your system every Night
Home Ioniser

With UV Lamp the 3n1 air purifier keeps your home bacteria free, and also it comes with a charcoal filter to remove odors.
The 3n1 air purifier is your best choice for creating a cleaner, healthier, more comfortable environment inside your home or office
Key Features
Efficient eliminate airborne contaminates such as dust, pollen, mold, smoke, pet dander, and bacteria, germs, allergens.
High electrostatic plate traps the dust, pollen, smoke etc.as small as 1 micron circulated in the air.
UV lamp destroys micro-organisms such as germs, viruses and bacteria, and helps create a healthier environment.
Easy maintenance:just wipe the dirt down from the collector rod (never has to be replaced) with a cleaning cloth.
Wisper quiet operation.
Runs 7-24 cleaning.
Ultra-low energy use: low mode 7.5W / high mode 12W.
Nice blue night chip. can be turned On or Off
Technical specifications
Rated Voltage: Input 120V-240V AC(adapter).
Ion output: 3 million ions/cm3.
Ozone output: less than 0.05ppm, 15mg/hour.
Product Dimension: 17"x6.7"x5.5".
low mode 6500V / high mode 7500V
Model Number: AP-77A
Color: Black
Regularl Price: $US207.00


AP202 Ionic air purifier 1.Use advanced ionic air movement technology
2.Soundless design, no motor
3.Cordless electric plug, convenient to use.
4.Save energy only 2.5W
5.Ionic dust collector, easy to clean
Power Consumption: 2.5W
Active Oxygen Output: =0.04ppm Ion Output: =1 x 103/cm3
Dimensions(mm): 175 x 78 x 68
Weight: 200g
Applicable Area: 10 m2
Europe AC220-240V/50Hz
USA/Japan AC 100-120V/50-60Hz

AP210 Ionic air purifier

1.Built-in cordless plug, easy to use
2.Machine closely fit to the wall, take no space
3.Dust collectors effectively capture harmful particles
4.UV light, active oxygen sterilized and freshen air
5.Internal fan rapidly circulate and purify air
6.Transparent front cover provides light in the night
Power Consumption: 8W
Active Oxygen Output: =0.05ppm Ion Output: =1x104/cm3
Dimensions(mm): 90 x 94 x 210
Weight: 350g
Applicable Area: 15 m2


Are you Getting Enough Oxygen ? Oxygen is one of the most important keys to good health, but not everyone is aware of it. Currently scientists are examining the role oxygen starvation plays in the development of disease.

CE Approved Black only
Accurate oxygen saturation and pulse rate data in seconds
Easy to use; automatically turns on/off with finger insertion/removal Compact size fits easily into a pocket


Wearable Ionizer

Personal Air Supply is a tiny, battery-operated air purifier that you wear around your neck or in your shirt pocket. Contaminated air is drawn into the unit where potentially harmful materials are eliminated. Through the use of Piezoelectric Transformer Technology, Air Supply projects a powerful stream of ions internally to eliminate odors and germs from the air that passes through it.