Homemade Bathtub Cleaner
3 dozen eggshells to make about 3/4 cup of calcium powder
1/2 cup baking soda
15-20 drops of your favorite pure essential oil – I recommend something citrus-y
Rinse the eggshells well with plain tap water.
Meanwhile, place 3-4 gallons of water in a large stockpot and bring to a boil. Reduce heat to a gentle simmer, then carefully lower the eggshells into the water and let them cook for 10-12 minutes.
Remove the shells carefully and set them upside down on a baking sheet. Let them air dry for 8-12 hours, then place them in a 200° degree oven until they are completely bone dry, about 10 minutes.
Working in batches, place the shells in a coffee grinder and process until they are completely powdered.
Toss the finished calcium powder with the baking soda and essential oils and mix until the oils are well-distributed and no clumps exist.
Spoon into a pint-sized Mason jar, then lay a piece of plastic wire mesh over the mouth. Screw on the regular lid to fit very tightly and store in a cool, dark place. To use, merely remove the lid and rescrew on the ring to create a shaker. (You could also use a sprouting lid or anything else that strikes your fancy!)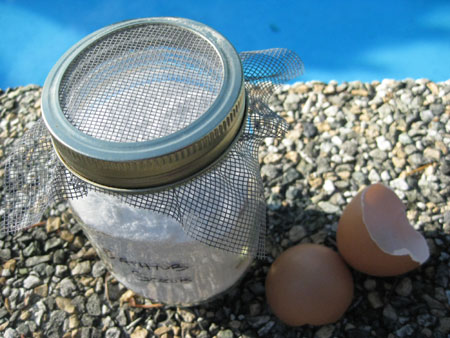 http://www.nourishingjoy.com/homemade-bathtub-scrub-with-a-surprising-secret-ingredient/