Broccoli Divan {Vegan; Grain-Free; Gluten-Free}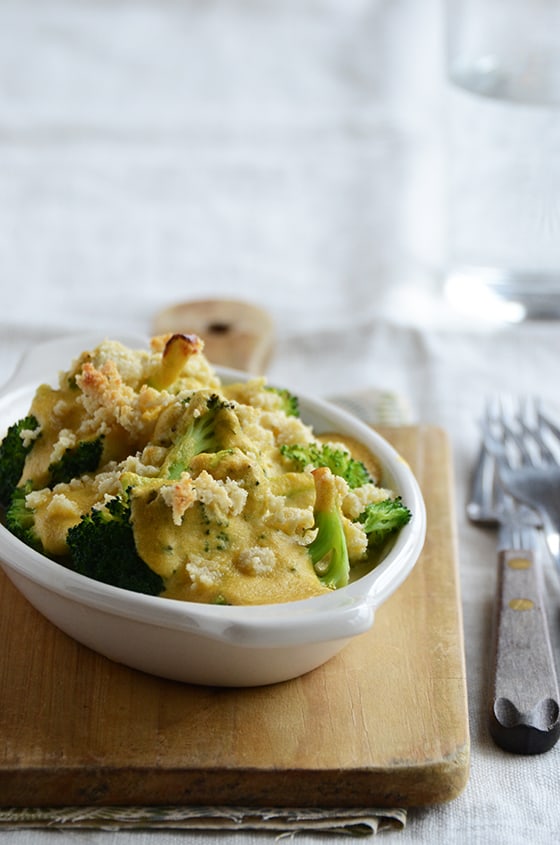 Broccoli Divan {Vegan; Grain-Free; Gluten-Free}
Ingredients
Cheddar-Inspired Cheeze Sauce:

1/4 cup raw, unsalted cashews
1/2 cup boiling water
1 tablespoon olive oil
1 medium onion, diced
1 clove garlic, minced
1 tablespoon lemon juice
3/4 teaspoon tamari
1/8 teaspoon salt
1/8 teaspoon turmeric
1/4 cup nutritional yeast

Other:

Vegan "butter", to grease the gratin dishes
3 cups broccoli florets
2 tablespoons almond meal
1 teaspoon olive oil
Instructions
Preheat oven to 375F; lightly grease 2 small (8 oz capacity) gratin dishes with vegan "butter".
For the cheeze sauce, add the cashews to a blender and pour the boiling water on top; let the nuts soak while you cook the onion for the sauce.
Heat the oil in a medium skillet over medium heat; add the onion and cook until softened and starting to brown in places, about 5 minutes. Add the garlic and cook 1 minute more, stirring constantly.
Add the onion/garlic mixture to the blender along with the cashews and water, along with the lemon juice, tamari, salt, turmeric, and nutritional yeast. Blend until smooth and creamy.
Fill a medium saucepan with water and bring it to a boil; salt the water, then add the broccoli and cook 90 seconds. Drain the broccoli and transfer it to a bowl filled with ice water to immediately stop the cooking process; drain very well.
Add the almond meal and olive oil to a small bowl and use a fork to combine, adding a pinch of black pepper if desired.
Divide the broccoli between the 2 gratin dishes, and pour the cheeze sauce on top. Sprinkle on the almond meal/olive oil mixture and bake until browned in spots, about 20 minutes. Serve hot.
Notes
Blender: You absolutely do NOT need a fancy high-powered blender to make this cheeze sauce.
Tamari Substitution: Although both tamari and soy sauces are vegan, I used tamari instead of soy to keep this dish gluten-free. If keeping it gluten-free isn't an issue for you, feel free to use soy sauce instead.