Okay,
Tiffany --This recipe is a bit different! Combining strawberries with tomatoes might sound a bit strange, but it's actually pretty tasty. Not to mention, high in antioxidants!
Strawberry Tomato Juice Recipe
This recipe makes enough for one good size glass of juice. Strawberries don't yield a lot of juice but are tasty. The tomatoes are a good watery balance to the thick sweet juice of a strawberry.
2-3 cups of Strawberries (approx. 16 oz)
Note: You can use any type of tomato. I am using Roma in these pictures.
Wash the strawberries and tomatoes. Cut the tomatoes if they are not small enough to fit in your juicer chute. Leave the green tops on the strawberries- they have many nutrients and it's okay to juice.
Juice the strawberries and tomatoes as usual.
You'll notice the strawberry juice is very thick. This is normal.
It's so thick, a strawberry slice can sit on top of the juice (pretty, though, isn't it?).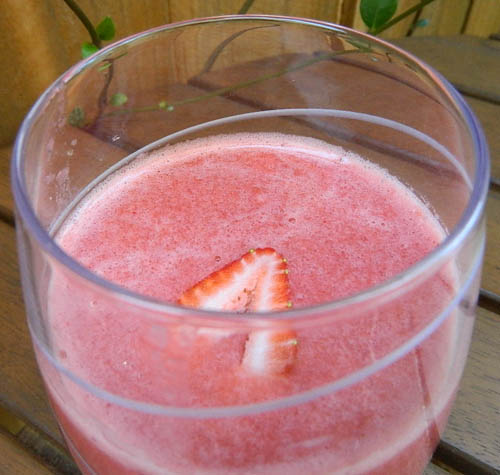 This juice is sweet at first, and then has a tomato aftertaste. Some people like it, some aren't sure. But you won't know until you try it out for yourself!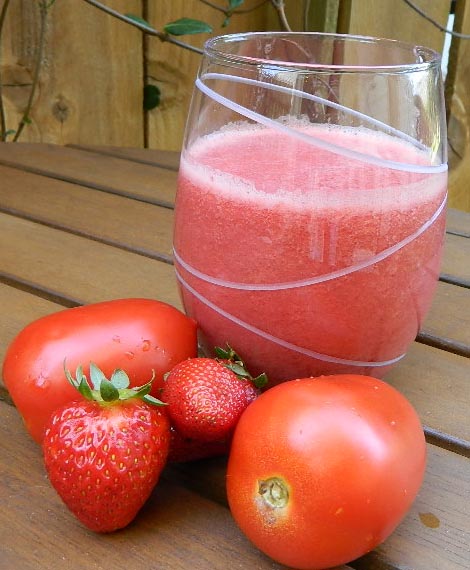 If you prefer a sweeter juice, add an apple.
Tip: For another variation of strawberry juice, try juicing pineapple or grapes with it. Tomatoes don't usually mix well with other produce. Stick to drinking it alone, or with celery or cucumber and an ocassional fun recipe like this one.