energy bites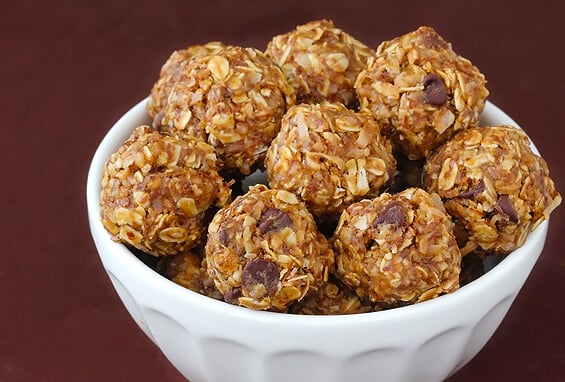 Last month I hopped out for Breckenridge for a weekend, to go skiing and catch up with my good friend Courtney. For years, she has been one of my favorite crafty/cooking friends. So when she mentioned that she brought along some yummy "energy bites" for us to take on the slopes, I was intrigued.
Upon first glance in the fridge, I admit I commented they
kind
of looked like meatballs. :) But after one delicious bite, I realized they were basically a healthy version of my favorite
no bake cookies
!! I'm not kidding. For any of you who have ever loved no bakes, these little guys taste amazingly similar, but without the tons of butter and lots of other fun healthy ingredients thrown in. And they're perfect for breakfast, snacks, or even as we all agreed — dessert!
All of our friends totally loved taking these little guys along on the slopes. And then I of course immediately came home and made a batch, and have been keeping them in the fridge for snacks and breakfasts-on-the-run ever since. Such a great recipe. Thank you, Courtney!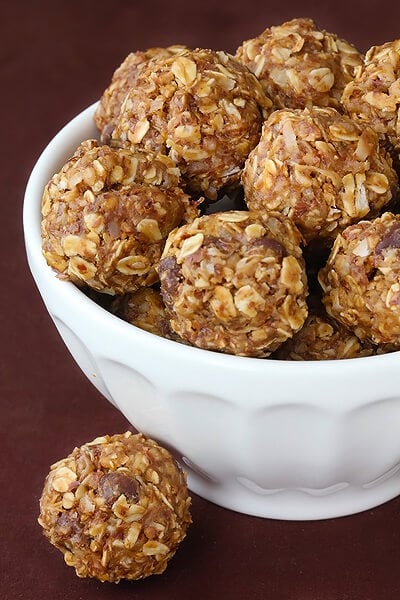 No-Bake Energy Bites RecipeIngredients:
1 cup (dry) oatmeal (I used old-fashioned oats)
2/3 cup toasted coconut flakes
1/2 cup peanut butter
1/2 cup ground flaxseed or wheat germ
1/2 cup chocolate chips (optional)
1/3 cup honey
1 tsp. vanilla
Method:
Stir all ingredients together in a medium bowl until thoroughly mixed. Let chill in the refrigerator for half an hour. Once chilled, roll into balls of whatever size you would like. (Mine were about 1″ in diameter.) Store in an airtight container and keep refrigerated for up to 1 week.
Makes about 20-25 balls.
Ali's Tip:
Substitution ideas can abound for just about any of these ingredients! Feel free to substitute in your favorite nut butter (almond butter, sunflower seed butter, etc.) for the peanut butter. And you could also add in some wheat germ in place of some or all of the flaxseed. I would caution, though, against substituting agave nectar for the honey, as the honey's thickness helps hold things together.
Some other fun substitutions for the chocolate chips (or an addition to them) could include:
chopped dried fruit (apricots, dates, raisins, etc.)
dried berries (cranberries, cherries, etc.)
chopped almonds, pecans, walnuts, or sunflower seeds
other chips (butterscotch, dark chocolate, milk chocolate, white chocolate, M&Ms, etc.)
other grains (different kinds of oatmeal, rice cereal, etc.)
Update: Many of you have asked about substitutions for other ingredients. The joy of these bites being "no bakes" is that this recipe is super flexible. If you end up needing to omit one of the dry ingredients (such as coconut or flax), just add in some extra of whatever other dry ingredient is remaining (for example, the oats). If you feel like your energy bites are too dry, add in extra honey or peanut butter. It's also not required that you refrigerate these, but I find it helps them stick together much better. And for some reason, I love things like this a little bit chilled. Enjoy!!
Source:
Slightly adapted from
Smashed Peas & Carrots
.