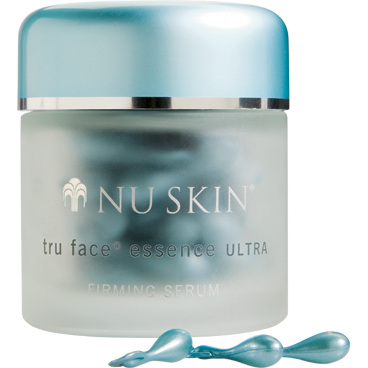 I received this and many other samples from a lovely,patient lady.A company that I have been demostrated on a few years back at an Anti-Aging Conference(A4M).The Galvanic Spa but that is in the future when I do get my hands on one and do before and after pictures.YOU to will be convinced and want one too.
Well this is one of the lovely products that it took once to use and love and angels fell out of the sky onto my skin..Kidding!To me it takes a few jars for certain products to see a difference or some instant and others days..Just depends on the ingredients and how your skin reacts.I fell in love with smoothness that the rest of my products went on after I popped one of the cute little capsules. Especially how my foundation looked..I have dry skin so matte stuff doesn't work with me.My face felt and looked smoother instantly. I need moisture and dewy.I have posted many great essential oils that are great in skin and supplements to take.But certain companies can just combine the right ingredients to perfection. I have to give this a 9.I would give it better but the price is up there. But for good skincare to me it is worth it if you can afford it. The price is about 163.50 for 60 capsules day and night. I have a Rep who can help you if you are interested. The ingredients are further down. You may be shocked about the price but trust me I have not even told you about the other products that I cant believe I shelled out(500) for creams that didn't do any better than other drugstore or department store brands.I have another review tomorrow on the Line Corrector.OH and the product and be sold retail at 130.80 through the rep I know..So worth it...I love how my skin looked.
-Tiffany
WHAT IT DOES AND ITS BENEFITS;
Promotes skin firmness and elasticity and fights current signs of aging with Ethocyn®, an ingredient clinically proven to improve skin elastin content.
Helps prevent degradation of elastin with elastase inhibitors.
Contains Tègreen 97, CoQ10 and colorless carotenoids, a complete protective antioxidant network that helps prevent future signs of aging by protecting against skin-aging free radicals
Helps contour and firm the skin for a more youthful appearance.
Defines skin around the eyes, neck, chin, jawline and décolleté and hands.
THIS IS THEIR MONEY BACK GUARANTEE;
STEP 1: Take a picture of your face before using Tru Face Essence Ultra with a newspaper in the picture that shows the current date.
STEP 2: Put Tru Face Essence Ultra on Automatic Delivery program.
STEP 3: Use Tru Face Essence Ultra twice a day as directed.
STEP 4: After using Tru Face Essence Ultra for eight weeks, take another picture of your face, as similar as possible to the one you took previous to using the product.