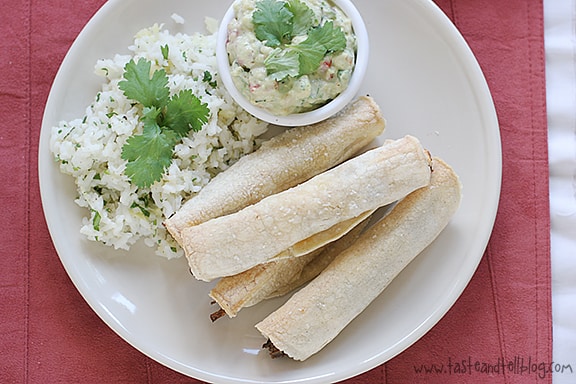 Chipotle Beef Baked Taquitos
Shredded beef is combined with a kick from chipotle peppers and green chiles, rolled, and then baked into delicious taquitos. Frying is not necessary!
Ingredients
3 cups cooked, shredded beef
1/4-1/2 teaspoon minced chipotle in adobo
1 (4-ounce) can green chiles
1 tablespoon adobo (from canned chipotle in adobo)
1 teaspoon garlic powder
1 teaspoon coriander
1/2 teaspoon cumin
1 teaspoon chili powder
zest from 1 lime
1 tablespoon fresh lime juice
12 ounces crumbled Cotija cheese
20 6-inch white corn tortillas
cooking spray
1 1/2 teaspoons kosher salt
Instructions
Preheat the oven to 425F.
In a large bowl, combine the minced chipotle pepper, green chiles, adobo sauce, garlic powder, coriander, cumin, chili powder, lime zest and lime juice. Add the beef and toss to combine.
Wrap 10 of the tortillas in a damp kitchen towel and microwave for 1 minute. Place 1 tablespoon of the Cotija cheese down the center of 1 tortilla, then top with 1-2 tablespoons of the beef mixture. Roll tightly and place on a baking sheet, seam side down. Repeat with the remaining tortillas, then heat the remaining 10 tortillas in the damp towel. Repeat filling and rolling until all the tortillas are filled.
Spray the taquitos lightly with cooking spray and sprinkle with kosher salt. Bake in the preheated oven for 20 to 25 minutes, or until the edges are golden brown. Remove from the oven and allow to cool for a minute or two before serving.