Meatballs with Fresh Ricotta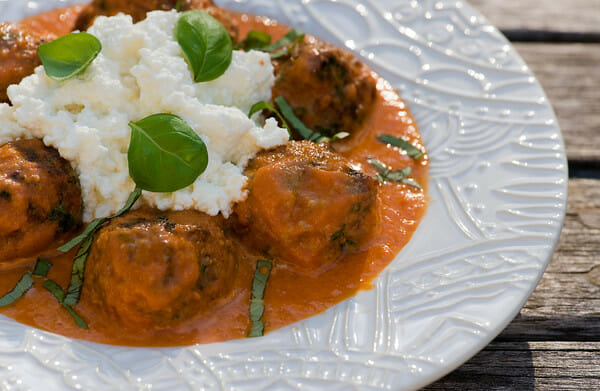 Ingredients
3/4 pounds meatloaf mix (1/4 lb each ground beef, veal and pork), or you can use all ground beef
1 clove garlic, minced
1 egg, lightly beaten
1/2 cup breadcrumbs or ground cashews
4 tablespoons chopped fresh parsley
1/8 teaspoon pepper
1/4 teaspoon salt
1 tablespoon heavy cream (goats milk or cashew cream;recipe in this blog)
3 tablespoons olive oil
3 cups of tomato sauce (homemade or jarred)
1 cup ricotta cheese at room temperature(homemade or cashew cheese)
1/2 cup slivered basil leaves
Directions
1. Make meatballs by combining meat, garlic, egg, breadcrumbs, parsley, salt, pepper and cream in a bowl. Mix together well and form into 12 meatballs. (These can be done ahead and refrigerated.)
2. Heat olive oil in large skillet over medium high, and add meatballs. Brown on all sides, turning gently, until they are browned but not cooked through, about 7-10 minutes total.
3. Pour sauce into a large saucepan. Carefully add meatballs, and heat to a simmer. Cook for about 15 minutes, stirring from time to time, until meatballs are cooked through.
4. Divide meatballs among plates, top with ricotta and slivered basil. Serve at once with bread on the side if you like!