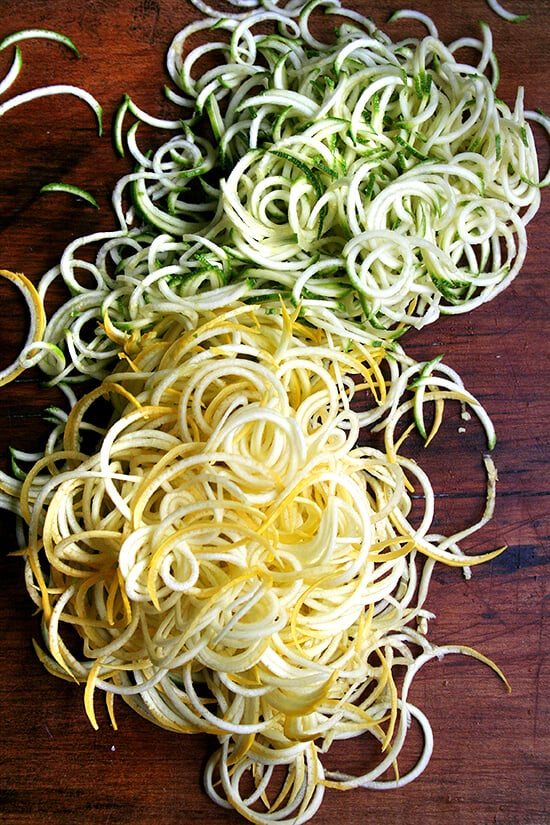 Love my Benriner mandoline: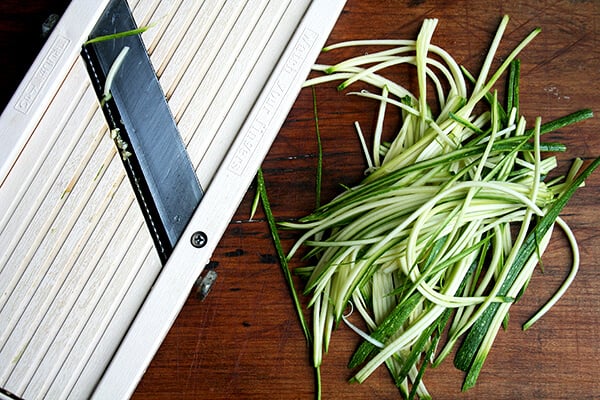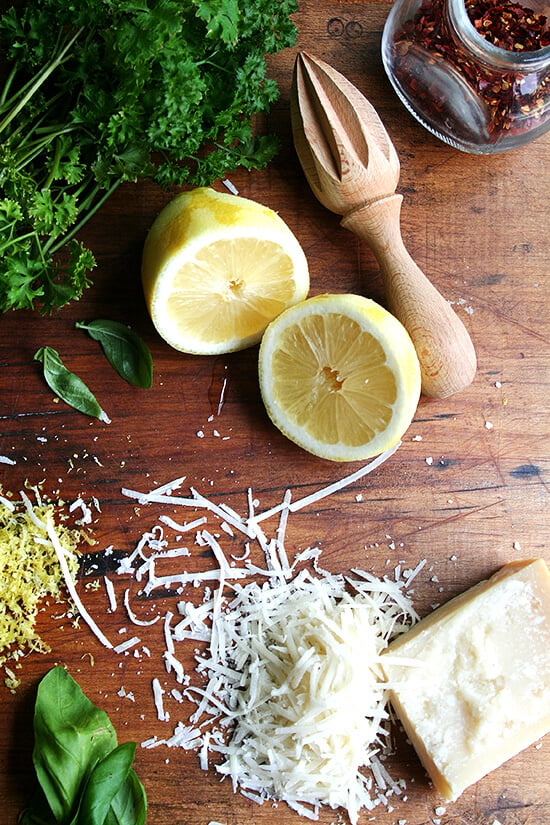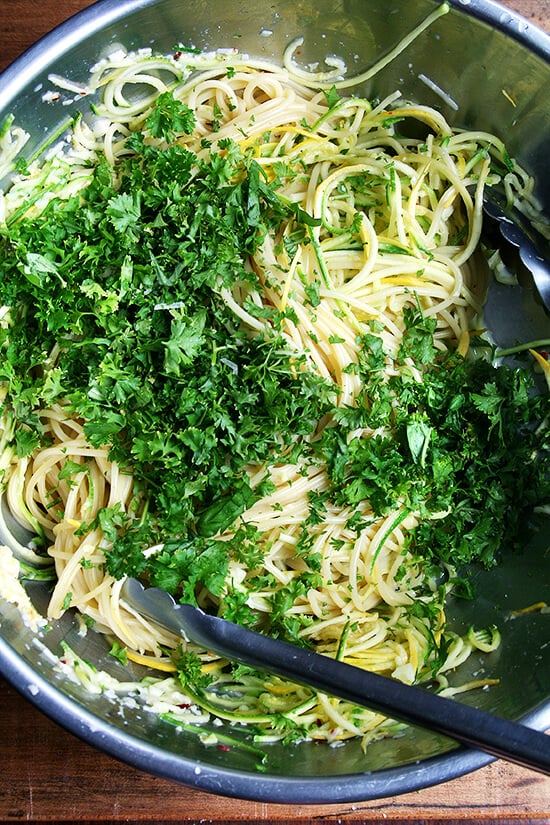 Zucchini Spaghetti
Adapted from Michael Chiarello's
The Tra Vigne Cookbook
Serves 2 to 3
Notes: The original recipe called for 3/4 lb. spaghettini, 3/4 lb. zucchini and 1/2 cup olive oil. I have reduced the amount of pasta and olive oil, but essentially kept the amount of squash the same. I also added lemon zest, which goes nicely with zucchini and adds a touch of brightness. Also, don't be confused by the photo with the halved lemon and reamer — I don't actually add any lemon juice, though I can't imagine a squeeze would do too much damage. Your call.
1/2 lb. spaghetti
kosher salt
1/2 lb. or more zucchini or yellow squash (I used 11 oz. weighed after being trimmed sliced)
¼ cup extra-virgin olive oil (or more or less)
2 cloves garlic, minced
½ teaspoon red pepper flakes
zest of one lemon
¼ cup chopped fresh basil
¼ cup finely chopped parsley (optional — sometimes I just use basil)
½ cup grated Parmigiano Reggiano
freshly ground pepper
1. Bring a large pot of water to a boil and add a big pinch of salt. Meanwhile, using a mandoline or Benriner turning slicer, cut the squash into long thin strips. Alternatively, cut the squash with a knife as thinly as you are able. Place the sliced squash in a colander in your sink. Cook the pasta until al dente, reserving ½ cup of the pasta cooking liquid (though you might not even need it — I never seem to with this dish).
2. Place the oil, garlic and red pepper flakes in a small skillet and turn heat to high. When the oil and garlic begin to sizzle, turn off the heat. (If you have an electric burner, as I do, remove pan from the heat source if the garlic begins to brown.)
3. Drain the pasta over the colander containing the squash, then transfer pasta and squash to a large bowl. Add the garlic-red pepper oil to the bowl. (Note: I add all of the oil at once, because I like the pasta to be nicely coated, but I could see how some people might find it too oily. If you are wary of oil, add about half of the oil to start, then add more as needed.) Add the zest and the herbs. Add the Parmigiano. Toss. Taste. Season with kosher salt (if necessary — I add a lot of salt to the pasta water so I usually don't have to add any extra salt) and pepper to taste. If necessary, add some of the reserved cooking water (I didn't need any), more olive oil (didn't need it) or salt and pepper.